How our customers are
successful with nooa
Discover new possibilities and advantages. All in one app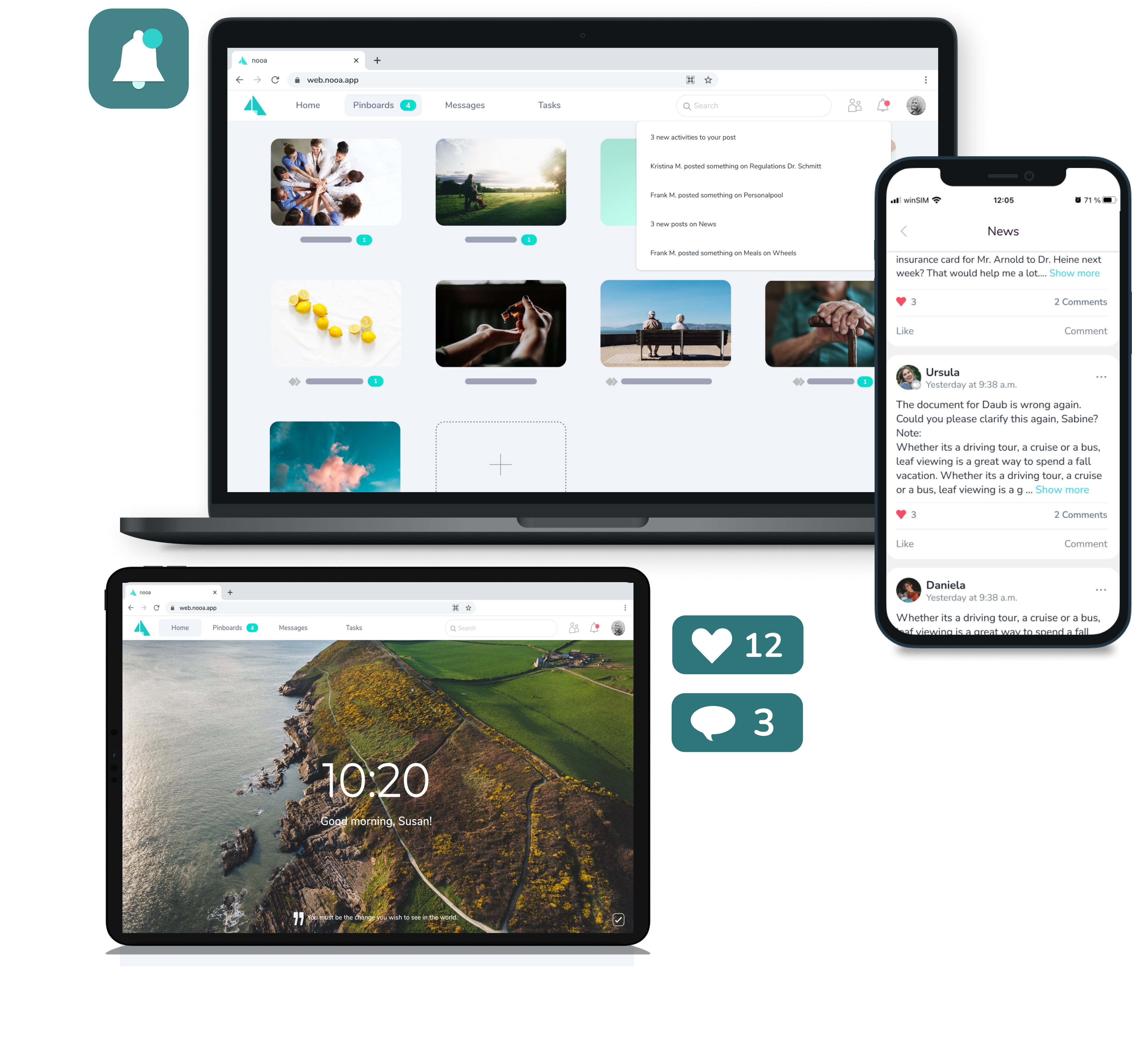 Real-life examples
With nooa you have everything covered
Intuitive communication
What is the best way to find and share relevant information?
Our customers not only appreciate nooa for everything it can do, but also for everything they can immediately start using it for
Clear task management
There is no faster way to take notes and create tasks. With nooa, task management adapts to the way you work, not the other way around.

Stop missing tasks and notes in emails, calendars and pieces of paper and start to keep everything effortlessly under control
Smooth onboarding
Thanks to the intuitive structure and simple handling, everyone quickly finds their way around nooa, regardless of whether they are bank staff or full-time employees.
Communication should be easy - tear down walls and break up silos to get new staff up to speed in no time
Impactful training
Continuous staff training, updating policies and procedures, or sharing new regulations - no problem with nooa.

A lot of time, effort and paper can be saved by using the simple and effective tools that nooa provides
Productive meetings
Pinboards are ideally designed for group communication. Post a message, text, document or image and other members can quickly react as needed.
Organize and execute meetings, post minutes or spontaneously get together via video call
Effective quality assurance
No need for more tools - with nooa, the entire team is on the same platform. Provide information in a clear and targeted manner. At the right time, in the right place, for the right people.
Everyone benefits from structured self-organisation and delegation. The improved flow of information avoids unnecessary back and forth and reduces errors
Structured file management
Whether in the office or on the road - everyone has access to the files and documents they need.
No matter what it is - find information with the click of a button and automatically match information to individual clients
Guaranteed compliance
The reliable and clear structure of nooa makes it easier than ever to provide any documentation you need.
Whether it is HIPAA-compliance or an inspection - nooa has you covered
Would you like to learn more about the real-life application of nooa?
Feel free to contact us!
Why you should be using nooa
Discover the nooa help center
In our help center, we share not only answers and solutions to questions and challenges, but also the most common use-cases from our customers.
Maybe you will find something helpful to apply right away!
Visit the help center